Bambi and the Boys'
Bubblicious Lounge Page

---




---
Welcome lounge cats! to the website of Bambi and the Boys, an exciting lounge act based in Miami, Florida.



---
The band consists of one part sex kitten and three parts swinging young boys. Mix it all together and you get a Bambi Banger!
BAMBISTUFF
1035 WEST AVE. STE. 608
MIAMI BEACH, FL 33139



---
Bambi and the Boys' debut CD release "Just Lounging Around" is available on Hot Productions and in stores now. It features wacky singles such as:
"Butch Inside"
"Crossdressing Can Be Fun"
"Double Agent DD"
and a lounge cover of Duran Duran's "Hungry Like The Wolf"




To order an album click here:

ORDER INFO
---
What is BAMBI AND THE BOYS?
---
THEY'RE ON T.V.!!!
Bambi and the Boys have been covered in several publications both international and local. You can read about Bambi LaFleur in a eight-page spread in the summer edition of Mode magazine. In addition, they have made appearances on local Miami television shows such as "Deco Drive", "The Scene" and "Open To The Public".

---
THEY'RE ON THE RADIO!!!
Bambi and the Boys are also spokespersons for an exciting new beverage called Bawl's. Listen for their original jingle played on radio stations in Florida, Washington, and Germany.

---
THEY 'RE IN PICTURES!!!
World renowned pin-up photographer Bunny Yeager has also taken an interest in Bambi and her adorable boys. Bunny Yeager is famous for her "glamour shots" of super pin-up girl Bettie Page. She is also a veteran photography for Playboy magazine. And it looks as if Bambi LaFleur may be her next poster girl.

---
"WHOA, BAMBI!!!"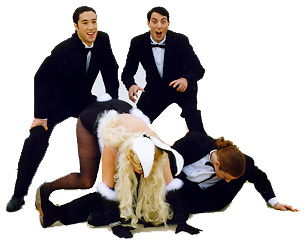 For booking information contact musical director Jon Rose via email at: jrose001@sprintmail.com
---