Glistening Flicks'
MPEG (Moving Picture Experts Group)
Information on MPEG4 Files & Players
Featured Multimedia of the Moment:


(click through to the website)


this is what our fans have told us:
1) well I tried Abobe Premiere, but it didn't work out. What did work out was the update of the free windows mediaplayer from the MS (http://microsoft.com) site. It includes a enormous amount of codecs, incuding a mpeg4 codec. Thanks for all the help and superfast reactions on my question.
2) Be advised the files you have identified as MPEG-4 do not conform to ISO/IEC 14496 standards. The format used by in the AVI groups was rejected back in February 1999. Be also advised the Microsoft Windows Media player will not play the file at the correct speed on dual processor computers and the video will not appear on computer configured to true color. True MPEG-4 files do not have any of these problems. See the following page for MPEG-4 conformancy: http://drogo.cselt.stet.it/mpeg/
good luck!
help@membrane.com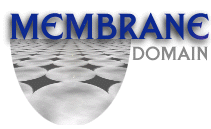 ---
© The Philadelphia Spirit Experiment Publishing Company
These graphics, images, text copy, sights or sounds may not be used without expressed written consent of the Glistening Web Communications Corporation.