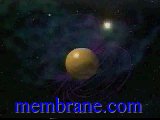 We Traverse Afar
original words and music by John H. Hopkins
adapted by the Philadelphia Spirit Experiment
A Convergence
There are many theories about the 3 Kings. But the way I've got it figured, they must have come from three different places. After all, how could there be three kings from the same land?

The arrangement is based on this theory. Three separate entities... traveling in the same direction until they converge on Thy perfect light.
Finding Meaning in the Present
To find out more about how this song is relevant in today's world, please click here.
Multimedia Downloads
Features live music footage combined with NASA animation of a "pulsing, bursting neutron star."

All music is written and recorded spontaneously.
c. The Philadelphia Spirit Experiment Publishing Company
These graphics, images, text copy, sights, or sounds may not be used without expressed written consent of theGlistening Web Communications Corporation.