Santa Letters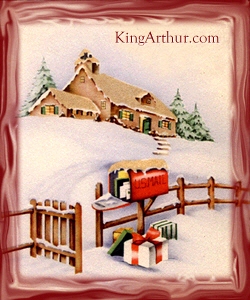 Personalized for each child (or adult)
Printed on Holiday Stationery
Hand-signed by Santa
Mailed directly to the child from the North Pole
100% of the net-profits go to children's organizations
Order by December 1st to receive North Pole Postmark !!!
If you would like your child to receive a letter from Santa, please fill out the following questionnaire (if you want a customized letter). You can print out the form and mail it with a check or money order for $6.00 USD (for one letter, $10.00 for two letters, or $12.00 for three letters) to KingArthur.com, PO Box 994, Blue Bell, PA 19422. Or, you can fill out the on-line order form and use your credit card.
All letters are guaranteed to arrive before Christmas when ordered by December 1st.

Order Form
If you do not want certain information in the letter, please leave it blank.
Submit separate forms for each child. If necessary, make additional copies of this form or attach a sheet of paper with the necessary information.