Dr. Ronald P. Ciccone, M.D.
Board Certified Family Practice

---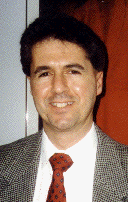 Mainstream Meets Alternative
I have a broad-based knowledge of the Alternative/Complementary Health Care field and am receptive to listening to your treatment and preventative care suggestions. I will do my best to integrate your suggestions where possible with mainstream allopathic medicine. Many times I will have my own ideas of integration which I will share with you. I do not pretend to be an expert in any one field of Alternative Health Care. Referrals to Wholistic Practitioners will be provided where and when they seem appropriate.
First Do No Harm
My philosophy is to blend Alternative/Complementary Care with mainstream Allopathic Medicine only if I am convinced of the safety of the treatment/preventative option and ONLY if the plan does not deny mainstream care essential to the health of the individual.
I Am A Sponge
Thirsty and eager to absorb new knowledge. Squeeze me for any information I am saturated with !!!
---
Feel Good Medicine
Reinventing Primary Care -- Reviving The Art of Medicine
| | |
| --- | --- |
| Emphasize | De-emphasize |
| Healing | Curing |
| Partnering (Proactiveness) | Prescribing (Reactiveness) |
| Subjectiveness | Objectiveness |
| Wholistic Care | Disease Specific Care |
| Empathy | Judgementalness |
C. G. Jung -- "Disease is the beginning of a natural healing process."
Sir William Osler -- "It is better to know the patient that has the disease than the disease that has the patient."
---
Future Vision:
An Integrated Care Center!!!
Interested Practitioners Please Contact Me!!!
Affiliations
Chairman, Committee on Integrated Alternative Care, Mercy Health Network of Mercy Health System
Advisory Board Member, Delaware Valley Wellness Network
Co-Chairman, Mercy Health System Steering Committee for the Integration of Alternative Care into Main Stream Ambulatory Medical Care
Member of the Board, Mind/Body Connection
Professional Member, Citizen's Alliance for Progressive Health Awareness (C.A.P.H.A)
Health Services Advisory Board - Humanicity
Member, American Academy of Family Practice (AAFP)
Member, Pennsylvania Academy of Family Practice
Member, Local (Delaware County) Division of AAFP
Lifetime Member, Air Force Association
Hospital Affiliations
Mercy Community Hospital - Havertown, Pennsylvania
Delaware County Memorial Hospital (DCMH) - Drexel Hill, Pennsylvania
Dr Ciccone's Resume
---
Dr. Ronald P. Ciccone, M.D.