Music & Video Downloads
Click here for an instant mp3
About This Video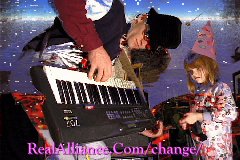 This music-video is about how Deep Purple's classic "hook" from Smoke On The Water caught more than one rock n' roll soul.
The song was originally written about a true life recording experience. The band was making the album with the Rolling Stones Mobile Unit in Montreux, Switzerland. Coincidentally, Frank Zappa's Mothers Of Invention were playing in town, and members of Deep Purple witnessed the burning down of the casino. The lyrics chronicle these events.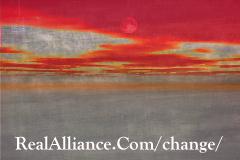 When I was just tall enough to see over the keys on the family piano, this song was a hit. We figured out how to bang out the rhythm, and became rockers. It was my first rock n' roll experience.
The years went by, and I got my own mobile unit. Then, I started working on a cover version of the song. Now, my kids got hooked on it, too... effecting yet another generation.
While you are witnessing this 4-year-old getting experienced, perhaps even you will get hooked.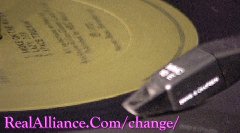 From Deep Purple's 1972 "Machine Head"
Smoke On The Water (Blackmore/Gillan/Glover/Lord/Paice)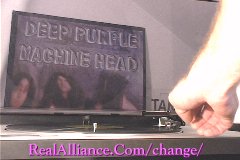 We all came out to Montreux
On the Lake Geneva shoreline
To make records with a mobile
We didn't have much time
Frank Zappa and the Mothers
Were at the best place around
But some stupid with a flare gun
Burned the place to the ground
Smoke on the water, fire in the sky
They burned down the gambling house
It died with an awful sound
Funky Claude was running in and out
Pulling kids out the ground
When it all was over
We had to find another place
But Swiss time was running out
It seemed that we would lose the race
Smoke on the water, fire in the sky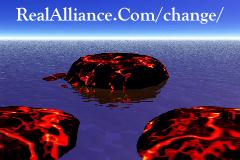 We ended up at the Grand Hotel
It was empty cold and bare
But with the Rolling truck Stones thing just outside
Making our music there
With a few red lights and a few old beds
We make a place to sweat
No matter what we get out of this
I know we'll never forget
Smoke on the water, fire in the sky
Murdeza~ Crows -- Keyboards, Bass
Danielle -- Keyboard, Wind Chime, Shake Snake
Chris -- Introduction, Engineering and Animation
Capn' -- Animation
---
Links For A Change
To Cause A Change
The Membrane Domain
PolitcalAction.Com
The Think Tank
---
© The Philadelphia Spirit Experiment Publishing Company
These graphics, images, text copy, sights or sounds may not be used without expressed written consent of the Glistening Web Communications Corporation.